Back to Facilities List
| Sandra Faire and Ivan Fecan Theatre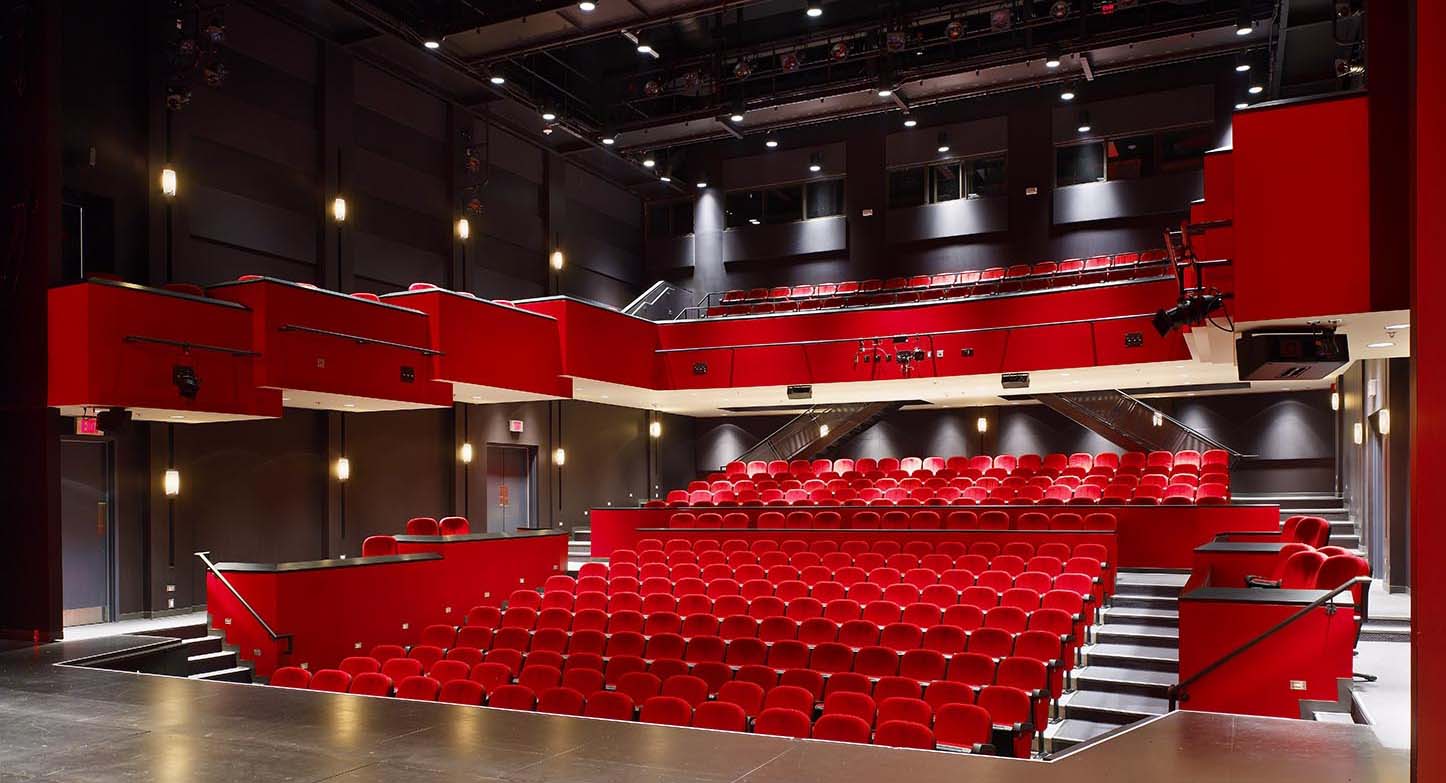 VIEW SLIDESHOW
Sandra Faire and Ivan Fecan Theatre
ADDRESS
York University
110 ACE (Accolade East Building)
83 York Blvd
Toronto, ON M3J 2S5
FEATURES
Generous stage, side-stage, wings and backstage space, an orchestra pit, fly system, trap , loading dock, dressing rooms, wig room and wardrobe room. The theatre has a comprehensive array of technical equipment including; LED lights, Digital Sound Console, Projector, Screen and much more.
The audience enters the theatre through the CIBC Lobby, a dramatic 2,600 sq. ft. space fronting the Sandra Faire and Ivan Fecan Theatre and the Tribute Communities Recital Hall. The CIBC Lobby is included in the venue rental of this space.
A full-service box office and coat check area.
Professional Technical and Front of House staff to help support events.
GENERAL USE
Theatre and Dance Productions
Concerts and Musicals
Conferences and Lectures
Films and Commercials
STUDENT USE
First year theatre students meet in the Faire-Fecan Theatre for "Prime Time," where guest artists and faculty speak about their work in the theatre.
Department of Theatre presents its season of shows, Theatre @ York.
Department of Dance presents its Annual Dance Showcase featuring the York Dance Ensemble.
Department of Music's Gospel Choir.
FUN FACTS
Fans of 'So You Think You Can Dance Canada' will be familiar with the space which has used our stage in the final audition stage of the program.
'The Next Step' has used the stage and facilities to film various episodes.
Parts of the film 'Work It' were filmed in various locations of York's campus including the Sandra Faire & Ivan Fecan Theatre.
SEAT CAPACITY
360
ACCESSIBILITY
Accessible
CONTACT
E
perform@yorku.ca
P
416-736-5292